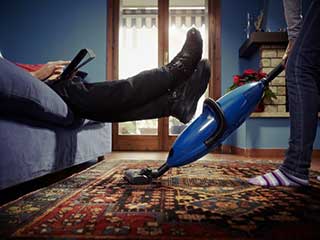 As an overall, most wall to wall carpets are made of synthetic materials but you can also find many made of wool. When it comes to rugs, there are also synthetic and natural materials used for their production and handmade ones are naturally considered the top quality. They are mostly made by sheep wool and oriental rugs are made by silk, wool or cotton. It is self-evident that handmade rugs are distinguishable since they are softer, much more beautiful and due to their dense weaving and multiple knots their colors are more intense. They value a lot and they definitely deserve to live for long but this would be possible only through good carpet maintenance and thorough, careful cleaning.
All carpets, especially handmade ones, are considered living organisms and that's why they need to breathe well. Don't forget that they keep your home warm and insulated and, therefore, it is to your best interest to keep them in perfect condition following the best carpet cleaning instructions and storage and maintenance tips, especially if they have cost you a fortune.
It is useful to know:
Handmade rugs are made of all natural materials including their colors.
They are natural and, thus, react to natural elements. If you leave them under the sun, their colors will fade and fibers will harden.
You have the time for stain removal because due to their thick density wool rugs do not absorb liquids and dirt right away.
Silk rugs are particular and if you vacuum them, you need to make gentle movements. It would be better to use brushes for their cleaning.
These are some of their main properties, which must be kept in mind while you are carrying out rug cleaning but it's good to know some tips to let them breathe better and last longer.
Rugs are easy to carry. Therefore, make it a habit to lift them from the floor and hang them in the balcony or put them above chairs in the yard twice a year.
Natural fibers would welcome natural products during dirty rug cleaning. Use vinegar to remove stains, odors and revive the colors.
Don't put them under other furniture. You hide their beauty and keep them from breathing well.
Ventilate the house often. They need the fresh air, too.
If you store them, use cotton sheets to wrap them or make holes in the plastic bags.