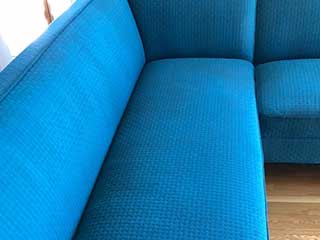 Even though the fabric isn't natural, you love the plush feel and the elegant look which your microfiber sofa boasts with. Just like all pieces of sitting furniture, however, it tends to get dirty more quickly than you'd like. That is why it requires proper cleaning once a week or at least once every two weeks. Here are the most important things which you need to know about microfiber sofa cleaning.
Checking the Code
Not all pieces of furniture are made from the same type of microfiber material. That is why they have different cleaning requirements which must be met. The good news is that these are indicated with a letter code present on the tag of each furniture piece. Before you get down to upholstery cleaning, you must check it.
The letter W means that it is safe to use a traditional water solution. The letter S shows that only solvent-based cleaners are allowed. If both letters are present on the tag, both types of cleaners will work equally well. If you see the letter X, then no solution is safe to use on the sofa. This is true even for eco-friendly products. The only safe cleaning method will be vacuuming.
Effective Techniques
When it comes to weekly couch cleaning, the safest and most effective DIY method is vacuuming. You can readily use the crevice tool for the tight sections and the upholstery tool for the other areas and the cushions. To keep the fabric in perfect condition, make several passes over each section, but don't press hard.
It is important for you to be cautious when it comes to stain removal too. Blot the stain with white paper towel and avoid using homemade solutions or general-purpose commercial cleaners as they may cause harm to the fibers and/or to the dye.