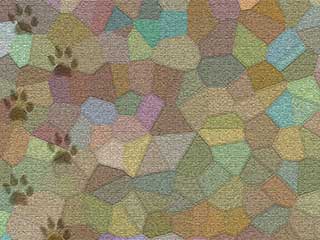 Getting rid of pet stains in your home can be quite frustrating. Whether on your carpet or upholstered furniture, it can be quite a challenge if you don't know exactly what steps to take. It is best to tackle it right away instead of letting it set in. The following information in this article will help you get a stronghold on the little mishaps that your indoor pet may have in your home.
Fresh Stains
If this is a urine stain, immediately blot it with some paper towel. If you don't have any at your disposal, try newspaper. The key is to remove the mess before it dries; this makes it much easier to get rid of the odor. Perform this step numerous times until the affected area is barely damp. Immediately following, rinse the area of rug or upholstery with warm water. Make sure to later remove as much of the water as possible. This can be done with the use of a wet vac. These series of steps in the stain removal process makes all the difference.
Dried Stains
Removing pet waste that has dried and set into the fabric requires much more effort to remove. For the best results, clean with a hot water extraction unit. This powerful carpet cleaning machine forcefully pushes the clean water through the carpet fibers, breaking loose the dried-in filth. It also forces the dirty water out in the same process. There are chemical solutions that come with the equipment but before use, make sure that it is not harmful to your carpet. To be on the safe side, simply use plain water.
Neutralizing the Odor
In order to neutralize the pet odor in your carpet, upholstery, or rug, make sure that the area is thoroughly rinsed. Afterwards, use a high quality pet odor neutralizer. Before applying it to the entire area, sample its results by applying it to a small portion first. This is helpful in the event the neutralizer causes damage or discoloration.