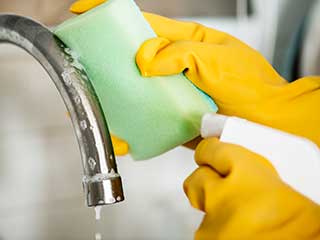 These days, home decontamination becomes something very crucial. But keeping your house or apartment clean is good for general health even during normal times. With the Canyon Country house cleaning services we provide to local area residents, you can maintain a healthy indoor environment by having professionals clean any room for you. We tend to dirty carpets, stained furniture, grimy tiles, and dusty curtains, and upholsteries. Any part of your home you need cleaning you can turn to us for.
Furniture & Carpet Stain Removal
Starting to notice weird spots on your sofa or area rug? Spilled red wine on the carpet, or some other oily substance that won't come off? With the precision stain removal for carpets and couches service we offer, you can eliminate stains on any piece of floor covering or furniture. We dissolve and get rid of stains on sofas, upholstery, and wall-to-wall carpeting, among other items. Whether it's mold, food, dirt, or other stains, our Canyon Country stain removal service specialists will get the job done to your complete satisfaction.
Cleaning Upholsteries Of All Types
From couch cushions to leather chairs to sofa pillows and more – we clean every type of upholstery item to perfection. Decorative pillows and various coverings contribute a lot to the interior décor of your Canyon Country residence. And dirty upholstery does the opposite. It makes the room look neglected. Plus, dirt and food stains on pillows and cushions or other covers can become hotbeds for various bacteria. Of course, upholstery cleaning needs to take place with efficiency and meticulous care. You don't want your coverings to get damaged in the process. The specialized upholstery cleaning service we provide to houses near the Canyon Country area lets customers get rid of any type of stain and dirt with minimal effort. And at a great cost too!
Canyon Country Dirty Carpet Cleaning Service
Floor coverings are often ignored and neglected simply because we're not focusing on them during our day to day. We may take our shoes off so as not to track dirt on them, but they rarely catch our eye. Unless, that is, there's something wrong. Like stains, for example. Stains on carpets or rugs become noticeable fairly fast. What's more, these relatively small blemishes often feel like they're ruining the entire décor around them. A dirty carpet with stains on it gives the room a neglected look, which nobody wants. Our carpet decontamination and cleaning services take care of such problems. We remove the stains completely, using non harmful compounds to dissolve the dirt without damaging the carpeting. Then we decontaminate the area, which is especially important with pet stains on carpets and similar nasty stuff. The final result is a clean, fresh-smelling carpet.
Room Decontamination & Cleaning
From removing tiny stains to sanitizing surfaces, furniture, and floors – the Canyon Country house cleaning services we offer do it all. Whether you only need to clean one sofa or whole rooms full of tiles, carpets, curtains, and other items, our professionals stand ready to help. Give us a call anytime to schedule the cheapest room cleaning and decontamination services near you!