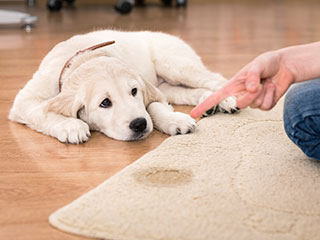 You may or may not have a "pets on the couch" rule. Whatever your situation, your little buddies are bound to have their own ideas, especially when you're not looking. Cats will see the couch as a scratch post and dogs will see it as a huge toy just waiting to be chewed, drooled on, slept on and of course - "marked".
You can cover the couch with plastic, but you'll end up asking yourself what the point of having a nice couch is, if you're just covering it up. You can try training, which can take years. There there's always the option of buying a microfiber couch, but with these, the mess is only prevented if you're there to clean it up, and you can't always be.
Removing Pet Stains & Odor from Your Couch
The sofa is a sitting duck, and bound to be covered in all manner of stains and pet mess over its lifetime. The important thing is not to try and prevent mess from being created, this is impossible. Instead it's better to accept the inevitable, and focus more on knowing the best ways to deal with mess when it pays a visit.
Get Top Results with our Upholstery Cleaning Services
In most cases cleaning the mess yourself will result in you making the stain worse, larger or bringing more damage to the surface of your couch. Our experts however, will be able to perform expert couch cleaning procedures. They will be able to tackle pet stains and hair removal without breaking or scarring your beautiful carpets and furniture. Contact us today in case you are facing any difficult pet stains!